Just a few kilometres from the campsite is the the charming village of Ars-en-Ré, in the neighbouring commune of Saint-Clément-des-Baleines, in the north of the island.
La Plage, a campsite near Ars-en-Ré
Whether you hire bikes or bring your own, this village classified as one of the "Most Beautiful Villages in France" is just a 20 minute ride away.
Its location by the sea and its typical regional architecture make it a member of the network of Villages of stone and water in Charente-Maritime. A visit to Ars-en-Ré is therefore an opportunity to discover iconic places, such as its port with its lovely cafés, Saint-Etienne church and the or the Renaissance-style Maison de Sénéchal.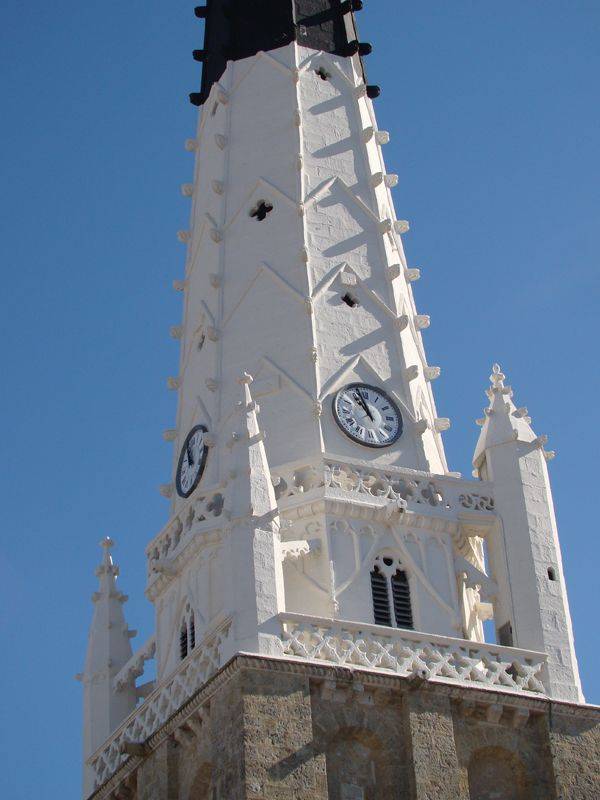 The Church of Saint-Etienne
A curious black and white point can be seen in the sky above Ars-en-Ré: the Church of Saint-Etienne. A characteristic feature of Ars-en-Ré, this 40-metre high religious edifice was once a landmark for boats at sea before the island's lighthouses were built.
As you get closer, you will see architectural elements that are characteristic of the Romanesque and Gothic styles, despite the centuries that separate them. Not surprising when you consider that it has undergone a number of changes and extensions over the centuries, the latest of which date from the 15th century.
Today, this building is classified as a historical monument and is one of the oldest two on the island. Those interested in old buildings and history can climb up inside the belfry and get a great view of the village's roofs and surroundings.