Donkeys in pyjamas, the stars of the Ile-de-Ré!
The donkeys in pyjamas are the island's mascots. These charming animals have a special place in the history of the local population, especially before farming became mechanised. We tell you everything there is to know about the donkeys in pyjamas, including the most important thing: where and how to meet them!
Donkeys in pyjamas, an enduring history
The donkeys formerly worked on farms, being used to collect kelp (a mixture of seaweed used as fertiliser). They also worked alongside salt workers and vine growers, helping transport their harvests.
But, the donkeys. who were doing their daily work as best they could, were bothered by mosquitoes and ticks, which could cause inflammation and even septicaemia in the donkeys. Legend has it that a woman had the bright idea to use one of her husband's old shirts to protect the donkeys's legs. This is how the island's donkeys came to wear pyjamas.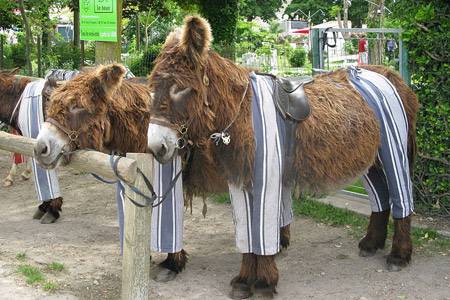 Today, farmers have abandoned donkeys in favour of machines. In 1985 André Léau started breeding donkeys and a few years later started organising donkey rides in Saint-Martin de Ré. Today, it is a family story and a huge success.
A donkey ride on the Ile-de-Ré
In the Barbette park, close to the port of Saint-Martin-de-Ré, your children (or you) can have a ten-minute donkey ride while on holiday on the island. For the modest sum of € 3, your kids can enjoy a ride and have the opportunity to pet these lovely Baudets du Poitou (the donkey breed).
Always in their pyjamas, which adds an undeniable charm, the donkeys in pyjamas will be a special moment spent with your kids on their seaside holiday. Children from 3 years of age can have a ride and it is an excellent thing to do after a relaxing day at the beach or a visit to the Baleines lighthouse. Your children may want to take home a souvenir of the donkeys, so a shop nearby stocks fluffy toys and a range of other items bearing the image of these stars.
Opening hours: every day from 10:30 am to 6:30 pm.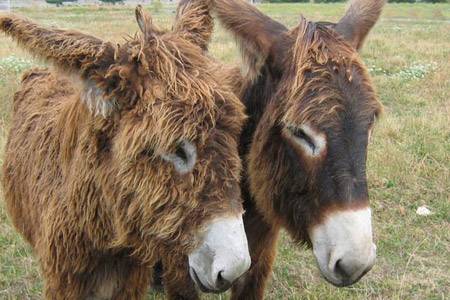 Donkey soap, 100% local
Did you know that the farm of Régis Léau (André Léau's son) also specialises in donkey milk? He has been supplying milk to the Savonnerie artisanale de Loix for over 10 years. Rich in trace elements, this milk is renowned for being good for the skin. After all, Cleopatra was said to regularly bathe in ass milk (well, that's what it says in Asterix!). If you'd like to test the virtues of this product, you'll have to go to the Donkeys in Pyjamas Shop in Barbette park to find this original and authentic soap. A great souvenir of the island!