A fun outing with family or friends near the campsite is a visit to the Écomusée du Marais Salants. Salt harvesting is an integral part of the Charente-Maritime heritage, but people often don't know how it works or how fascinating it can be. A visit that will delight and inform all audiences, for a very reasonable admission fee!
The history of salt farming on Ile-de-Ré
Salt harvesting is a tradition made a huge contribution of the island's economy from the 12th through to the 19th century. During this period, a veritable maritime trade was centred on this invaluable "white gold", which was used in particular for the conservation of food. A different era! Little by little, the salt trade declined and the salt marshes were abandoned by the salt workers in favour of other more profitable activities, such as agriculture. However, for at least two decades, thanks to a recovery programme, young salt marsh farmers have been reinvesting in the salt marshes and reviving the ancestral ways and techniques. The island's Ecomuseum gives you a better understanding of their work.
How is salt harvested on the Ile de Ré?
Your visit starts inside the museum. On this guided tour, you will learn more about salt production from a a model showing the different basins in the salt marshes. You will see how simple the principle is: promoting the evaporation of sea water by the heat of the sun and the action of the wind. The production of salt (coarse salt and fleur de sel) is therefore carried out mainly in the summer. The other seasons are an opportunity to maintain the salt marshes in preparation for the next harvest. The exhibition also lets you see and handle the tools used to extract salt. But that's just the start of the visit – it continues in a superb natural setting…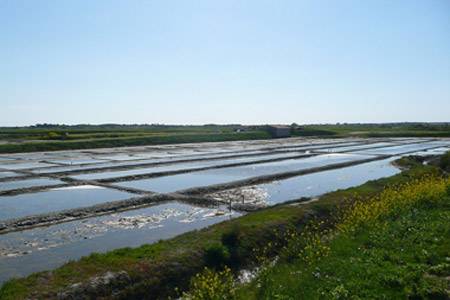 Discover the natural site of the salt marshes
A guide then takes you on a field trip. Out in the open air, you will be able to better understand the work involved in salt production. You will get to know the local fauna and edible plants such as samphire, obione and black mustard. You will probably come across several species of birds that particularly like this peaceful spot (almost as calm and soothing as the Zen area in the campsite!). The guide will be there to to answer all your questions and satisfy your thirst for knowledge.
Finally, for gourmets, local produce is for sale. Unsurprisingly, it comprises caramels with fleur de sel, coarse salt and fleur de sel, and the famous samphire. You can try all of these at the campsite, especially the exquisite fleur de sel – a 100% natural product that will definitely enhance your cooking.